ISO 9001
Molino Bertolo is distinguished from other mills by the high quality of its products. This is guaranteed by daily checks carried out regularly and accurately through the entire supply chain: from the arrival of raw materials to the finished product. The conscientiousness of Molino Bertolo guarantees customers a safe product.
Molino Bertolo quality is ISO 9001 certified. This certification embraces consistent productivity growth aimed at meeting customers' needs ever more precisely and maintaining product quality over time.
Quality management means not only carrying out daily quality tests in our laboratory, but also monitoring production processes with a view to carefully assessing efficiency and effectiveness in reaching corporate targets. This is done by an ad-hoc group of staff guided by the company's management.
To view our ISO 9001 certificate, click on this link.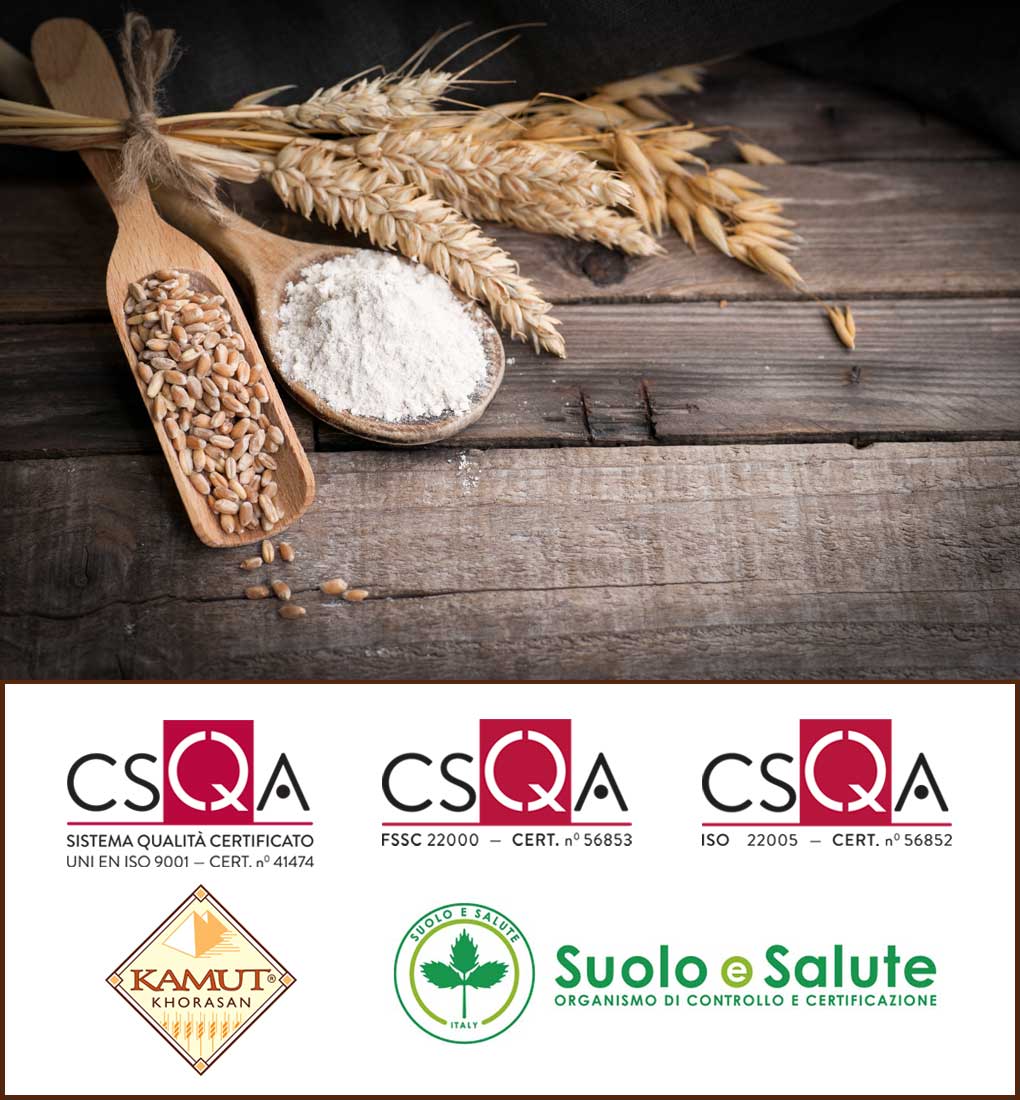 KAMUT®
Molino Bertolo has also obtained KAMUT® certification, which guarantees that the certified, non-hybrid, organic wheat it uses is original, unmodified and not GMO, and will maintain its ancestral flavour and peculiarities. KAMUT® wheat is extremely pure, highly nutritious and of the best quality: an excellent source of proteins, fibres, vitamin B1, magnesium, phosphorous, zinc, antioxidants, and mineral salts such as copper, selenium and manganese. Molino Bertolo offers its customers flour of the highest quality.
ORGANIC
Molino Bertolo produces certified organically farmed flour. The organic certification guarantees that products are obtained by a production process that respects Nature and is carried out sustainably. Organic farming uses absolutely no GMOs, makes a very limited use of food additives and strictly limits the use of pesticides and fertilisers. This is the commitment that has led Molino Bertolo to certify its products, as it cares about the environment and especially about its customers' health. Molino Bertolo's organic quality is guaranteed by the European logo on its labels. Organic products ensure health and quality, and this is the daily purpose of Molino Bertolo.
To view our organic certificate this link.
FSSC 22000
FSSC 22000 - The Food Safety Certification Scheme 22000 is a certification standard developed by the Foundation for Food Safety Certification in order to certify food producing organizations and aims to harmonize certification requirements and methods for obtaining food safety systems in the production chain.
Starting from February 2010, FSSC 22000 is recognized by the GFSI - Global Food Safety Initiative, which was created in May 2000 for the will of the Consumer Goods Forum, a global independent network that operates with the aim, among others, of ensuring the distribution of adequate consumer products (e.g. safe) to consumers. It brings together the Board of Directors and Executives of about 400 retailer and producer organizations in 150 countries. The forum currently represents companies with a total value of 2.1 trillion Euros.
In addition, since October 2010, FSSC 22000 has been recognized by EA (European Cooperation for Accreditation). FSSC 22000 is the first food safety management system standard recognized by GSFI to receive EA's recognition. This means that all accreditation bodies in Europe will accept FSSC 22000.
allows organizations to focus on improving food safety through continuous updating to scientific and technical state-of-the-art;
is recognized globally as the system is based on an ISO (International Standardization Organization) standard;
allows the implementation of a systematic PRP management protocol, focused on the true critical aspects of the Organization;
improves communication throughout the supply chain;
applies flexibly to specific customer requests.
To view our ISO 9001 certificate, click on
this link
.
ISO 22005
The ISO 22005 incorporates the Italian standards UNI 10939: 01 relating to the "traceability system in the agri-food chains" and UNI 11020: 02 concerning the "traceability system in agri-food companies" and applies to the entire agri-food sector, including feed production.
This standard is the international reference document for the certification of food traceability systems.
The implementation of traceability systems in companies and agri-food chains is an indispensable tool for:
respond to binding obligations,,
enhance particular product characteristics, such as origin / territoriality and the peculiar characteristics of the ingredients,
satisfy customer expectations (understood both as large-scale retail trade and as final consumer).
The traceability system alone cannot guarantee the safety of the food product, but it can certainly make an important contribution to achieving this goal.
In fact, if there is a non-conformity of a hygienic-sanitary type, it allows on the one hand to go back up to the point of the supply chain where the problem originated, on the other hand to proceed, if necessary, with the "targeted" withdrawal of the product.
To view our ISO 9001 certificate, click on
this link
.
LEGALITY RATING
Introduced in 2012, legality rating is a tool for Italian companies designed to promote ethical corporate behaviour by assigning a score – measured in stars – that indicates how strictly the law is observed by participating companies and, in general, how committed they are to the proper management of their business.
Molino Bertolo has always pursued transparent, proper management of its business and has obtained this important rating.
It is now in the Legality Rating list that brings together the most virtuous Italian companies. To see our rating certificate, click on this link.