FOOD ACADEMY TUTORS
Bertolo Food Academy is Molino Bertolo's training school.
Tutored by renowned master bakers and master pastry cooks,
those attending the courses are guided step by step,
from the basics to the finished baked product.
Mattia Albertin
Born in Adria on August 26th 1983 Former professional rugby player. Many years in the ranks of rugby Rovigo and promise of the Italian national team, with which he made his debut when he was only 18 years old. After a serious accident that forced him to retire, he rediscovered his passion for pastry making by participating in the 4th edition of "Bake Off Italia" television show, where he ranked third. After the show he decides to turn his passion into work: first of all, the pastry school in Padua and immediately after a path that allows him to follow the best Italian pastry chefs. Nowadays, his desire to grow professionally does not stop. Numerous pastry courses in collaboration with Molino Bertolo with the aim of starting a path in innovation and tradition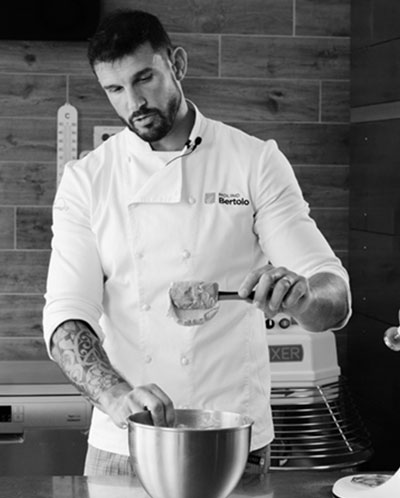 Gian Luca Furlan
Gianluca was born in Trieste, in 1986. At the age of 14 he decided to enroll at the Falcade hospitality training institution. During weekends and summers, he used to work at the restaurant Rifugio Fiducia where he is so lucky enough to meet people, who increasingly transmit the passion for the gastronomic world. Once the school was over, he decided to move around Italy: Rome, Ancona, Lake Garda and Trentino, to finally settle down at the Four Season in Milan, in the kitchen of Sergio Mei, where he had his most important work experience. After this important role, he then decided to open a catering business in his city Trieste, but it was too hard to resist the opportunity offered by chef Metullio, so he decided to start this new work experience at La Siriola Restaurant, in Alta Badia. Nowadays, he collaborates with one of the most important pastry chef in the industry, Leonardo Di Carlo with whom he manages all of the pastry classes that take place at the prestigious school, Pastry Concept.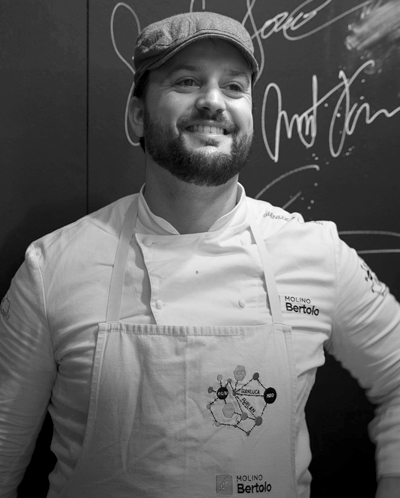 Emanuele Bianchin
His passion for the art of baking, began in his father's company in 1980, where he worked for twenty years. In 2005, he started to work in the catering industry, working for seven years as head of pastry and bread making in historic and prestigious venues in Treviso.
Since 2012, he has made available his experience for the training of future bakers and pastry chefs, at the school CFP of Lancenigo (Villorba). His curious approach and the constant research in the use of new products, have allowed him to follow the new food guidelines, from gluten-free, to vegetarian, vegan, organic and biodynamic food.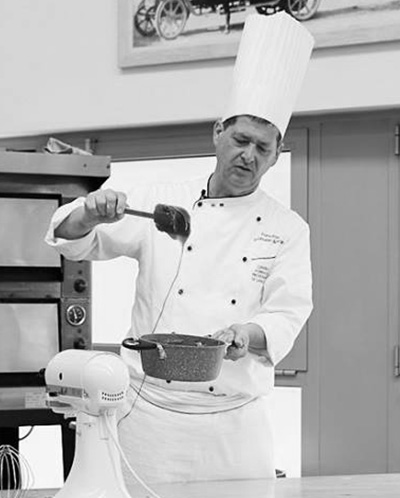 Walter Denti
Born at Pontevico (Brescia) on 13 July 1961. He studied pizza making at the Italian Pizzeria Association training school at Verona – a school for bakers and pastry cooks run on the Pan Technology premises by Francesco Favaron from Verona. From 1984 to 2001 he was the owner and manager of the Panetteria Fiorini Teresa shop. He is now working as a consultant for the Carpi Società Progeo (Modena), IRINOX S.p.A., Conegliano (Treviso) and ROVIMPEX, Havana (Cuba). He is a product research and development technician for Società Progeo, teaches at the O. Vergani School of Hotel Management and Catering, Ferrara, and holds courses for FSE in Verona and CNA in Brescia and Rovigo.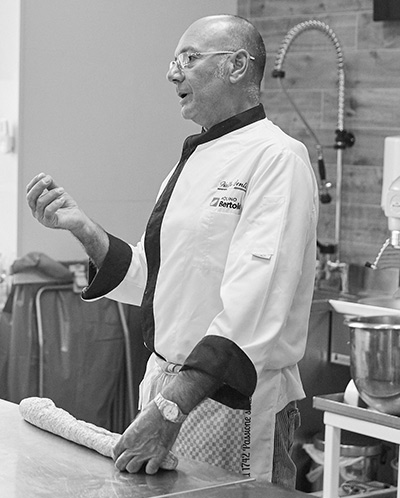 Valeria Agnelutto
A cook enamoured of natural food, diet and nutrition. She is passionate about cooking and loves to promote awareness of everything pertaining to healthy, sustainable food. Her specialisation is vegetarian nutrition and vegan, vegetarian, macrobiotic and raw food.
"During my courses I try to teach a new style of diet, simple but delicious and based on top quality ingredients.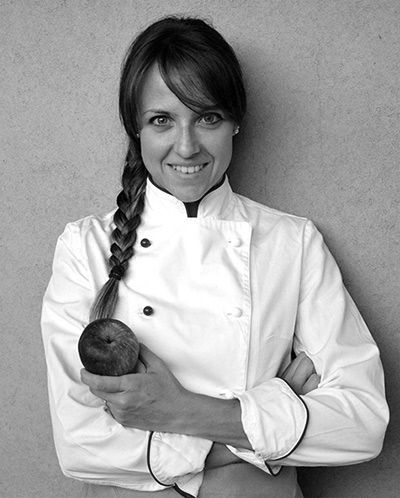 Sonia Bortot
Mother of two with a passion for home cooking and mini pastries, she loves working with simple, familiar ingredients. She also pays attention to colours and shapes that appeal to children, without forgoing flavour and genuineness. In this way she helps them explore fragrances and flavours in daily fare and enjoy cooking that challenges their imaginations!